Panathlon Sweeps Positive Vibes Across Whole School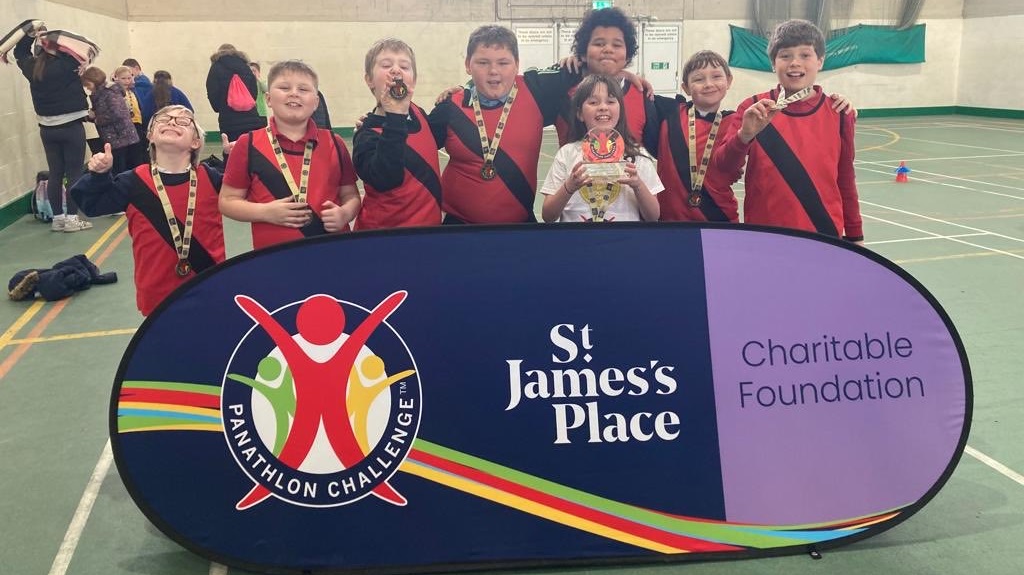 Panathlon has 'swept positive vibes across the whole school' at Cottenham Primary School in Cambridge since its pupils with disabilities and special needs first engaged with the programme four years ago.
That's the view of Richard Moore, Cottenham's Deputy Head and Inclusion Lead, who has led the development of PE lessons and lunchtime and after-school clubs for pupils with SEND, inspired by the adapted activities at Panathlon competitions.
These in-school activities are ideal preparation for competing in external Panathlon competitions – and Cottenham saw all their practice pay off by finishing runners-up in the recent Cambridgeshire and Peterborough Primary Final in St Ives, having won a local qualifying event to get there.
Richard takes up the story: "We'd been going to Panathlon events for a year or two and it became clear that we should be doing more of this type of activity at school to achieve the same positive outcomes every week for those children who find school the hardest."
Using funds from the school's Primary Sports Premium, they invested in equipment that they'd seen at Panathlons and trialled a sports club for pupils with additional needs on a Wednesday afternoon.
Richard explains: "It was immediately clear there was a real taste for it among the teaching assistants who were working one-to-one with those children. It quickly became a really positive part of their week. It grew in popularity and there was a real buzz that these children were getting this experience."
The club grew in popularity (beyond the 17% of pupils with SEND at the school), more equipment was added and soon it resembled a full primary Panathlon competition every week! This translated into success at external competitions, as the school team won a local Panathlon competition at Impington in January. That sealed their qualification for the regional event in March, where they won silver medals.
"The kudos those children had among the whole community for going away and winning a tournament was incredible," reflects Richard. "It sent a really positive message to everyone else.
"For those eight children, who all need significant support, they went in thinking, 'We can do this!' That is something those children may not experience very often. There was a real sense of being part of something special. It meant so much to them to go somewhere as a team wearing the school jersey.
"Receiving applause from the whole school in Friday assembly is priceless for them. For the teaching assistants to see them confident, achieving and relatively independent is amazing. They are confident and able to regulate themselves in ways you'd probably never see in a classroom."
Panathlon is now an established part of the curriculum at Cottenham Primary and staff hope to run their own inter-school competition and even engage parents in an opportunity to compete.
Richard explains: "The rest of the school community [who don't have special needs] are always asking if they can do the Panathlon activities in their PE lessons. That gives real kudos for those children who 'own' Panathlon. For other children to be asking to do 'their' thing is great for them.
"It's not just about developing their physical skills, it's the way they support each other, give each other feedback and show a healthy and positive level of competition. They're getting more creative in adapting the activities, changing the rules, using the equipment in different ways, dealing with disappointment, taking turns… there are just so many positive effects.
"It's so important that those with additional needs have this sort of status in mainstream schools. For those children to be highest achievers in a certain area sends such a positive message to everyone else about what's possible."
Tony Waymouth, Panathlon's Chief Operating Officer, said: "We are delighted that Panathlon competitions are inspiring schools to purchase equipment and use our ideas and activities. We're leaving a legacy of regular inclusive participation and competition through PE and sport clubs and internal competitions. It's fantastic to see."