New winners at Small Schools Cross Country Competition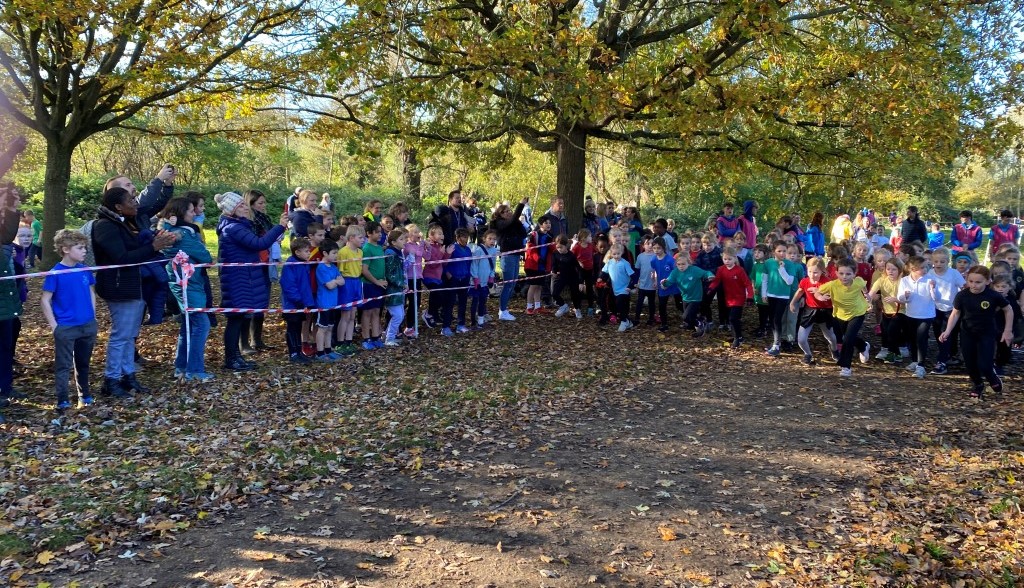 It was a lovely sunny morning at Milton Country Park for the South Cambs School Sport Partnerships annual Small Schools Cross Country competition on 15th November. Just over 600 children from 17 primary schools across the district enjoyed the event which has now become a highlight of the sporting calendar for many schools with some children racing at the venue for a third or fourth time.
The children who took part were competing for individual honours and team pride as they raced the 1-mile course and they were cheered on and encouraged by their teammates as they came back through the start area to complete their second lap.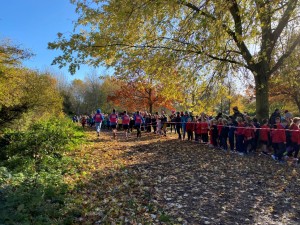 There were 8 races on the day with a separate boys and girls race for years 3, 4, 5 & 6 with the first three finishers in each race receiving a medal and certificate. In the team competition it was the top three placed runners from each school that scored for their team with a separate Year 3 & 4 and Year 5 & 6 team competition.
Individual results were as follows.
Year 6
Boys
Girls
1st
Steve (Petersfield)
Alicia (Girton Glebe)
2nd
Thomas (Bourn)
Scarlet (Harston and Newton)
3rd
Harry (Harston and Newton)
Ella (Bourn)
Year 5
Boys
Girls
1st
Albert (Bourn)
Rosa (Haslingfield)
2nd
Gregory (Haslingfield)
Evelyn (Coton)
3rd
Ashley (Girton)
Delilah (Girton Glebe)
Year 4
Boys
Girls
1st
Jack (Dry Drayton)
Darcy (Great Abington)
2nd
Peter (Girton)
Yasmin (Bourn)
3rd
Fergall (Dry Drayton)
Daisy (Harston & Newton)
Year 3
Boys
Girls
1st
William (Bourn)
Isabelle (Barrington)
2nd
Hayden (Barrington)
Jessie (Bourn)
3rd
Chester (Barton)
Joni (Barrington)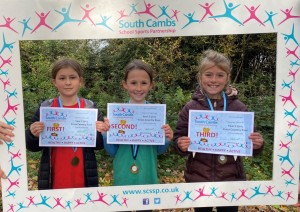 In the team competitions two schools dominated and claimed the winners shields for the first time, Bourn Primary Academy and Girton Glebe.
With 3 runners each in the top 3 places in the four Year 5/6 races and strong performances from all their runners the teams from Bourn and Girton Glebe incredibly both managed to finish on a score of 167 which meant they tied for 1st place and will share the winner's shield.
The Year 3/4 competition was a much more clear-cut affair with Bourn Primary Academy finishing as standout winners with 3 of their runners finishing in medal winning positions and their overall score of 129 taking them clear of Haslingfield who finished as runners up by over 100points.
The overall team results were as follows (only schools that had entered a team for all four races could qualify for the team competition):
| | | |
| --- | --- | --- |
| | Year 5/6 | Year 3/4 |
| 1st | =Girton Glebe & Bourn | Bourn Primary Academy |
| 2nd | | Haslingfield |
| 3rd | Haslingfield Primary | Petersfield Primary |
| 4th | Thriplow | Harston and Newton |
| 5th | Coton | Barrington |
| 6th | Harston and Newton | Great Abington |
| 7th | Barrington | Girton Glebe Primary |
| 8th | Great Abington | Thriplow |
| 9th | Petersfield | Elsworth |
| 10th | Dry Drayton | Foxton |
| 11th | Foxton | |
Children from Barton, Barnabas Oley, Guilden Morden, Fen Drayton and Burrough Green primary schools also took part in the event but these schools did not have enough runners to qualify for the team competitions.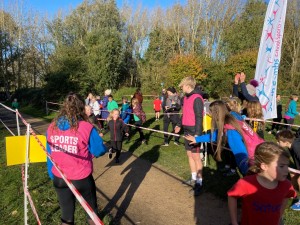 Partnership Manager, Claire McDonnell, said,
"It was great to be back at Milton Country Park for one of our favourite events of the year. It was lovely to see so many schools and children taking part and there was certainly lots of grit and determination on display as the children took on the 2 lap course. Its always lovely to hear the children cheering and encouraging their teammates as they come through to complete their first lap before winding their way back through the trees and round to the finish line.
There were lots of great individual and team performance on the day and its nice to see two new schools winning the event for the first time as well as other schools managing to field a team in all of the races for the first time.
As always, we must thank the team of 35 sports leaders from Impington Village College who volunteered at the event leading the warm up zone, running at the back of each race as sweep runners, helping at the finish line and generally supporting the children to get round the course. We also had a group of 20 uniformed services students from Cambridge Regional College who marshalled the route for us and made sure the children were safe out on the course. I say it every time, but we simply couldn't run events like today without the support of them and their colleges."
There are more photos on our Facebook page.