Histon & Harston retain Quadkids titles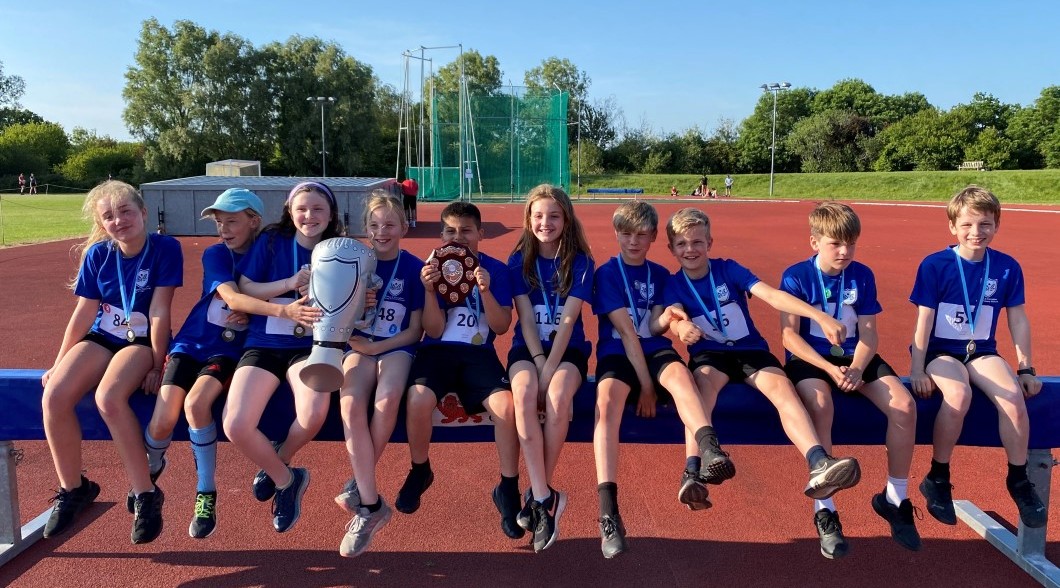 The fantastic athletics facilities at Cambridge University Sports Ground on Wilberforce Road played host to the South Cambs School Sport Partnership Year 5 & 6 Quadkids Athletics Competitions last week when 340 children from 28 primary schools competed in either the 'Small Schools' or 'Big Schools' competition which were both held on the same day.
Quadkids is a team-based competition with 5 boys and 5 girls each competing in a 75m sprint, a 600m run, a long jump and vortex howler throw. Individual performances are scored using a points table and the winners are the team with the highest cumulative points score so it is important that every athlete puts in their very best performance in each event.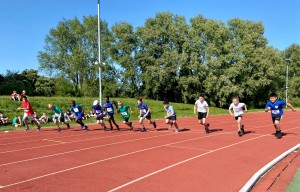 The winners of the 'Big Schools' competition were Histon and Impington Brook Primary School who have a strong tradition in the event and retained the trophy they won last year with all 10 of their athletes putting in strong performances and finishing in the top 75 athletes overall. Runners up were the University of Cambridge Primary who also finished in 2nd place last year but took some consolation in having the top scoring boy in their team. Trumpington Park were a close 3rd with another string performance from their team who all finished in the top 90 from 150 athletes.
BIG SCHOOLS
Rank
Team
Points
1
Histon Brook
1606
2
UCPS
1536
3
Trumpington A
1509
4
Swavesey A
1488
5
Meadow
1370
6
Swavesey B
1348
7
Linton Heights
1324
7
Trumpington B
1324
9
Waterbeach
1317
10
Cottenham
1301
11
Milton A
1276
12
Pendragon
1211
13
Bassingbourn
1198
14
Milton B
1086
15
Bar Hill
863
It was a similar story in the 'Small Schools' competition with the athletes from Harston and Newton all ranking in the top 75 performances helping them to retain the trophy they have won the last three times the competition has been held.  Meldreth were runners up with all of their athletes finishing in the top 100. Meanwhile Petersfield produced their best ever performance to finish 3rd, largely thanks to their boys who incredibly all ranked in the top 30.
SMALL SCHOOLS
Rank
Team
Points
1
Harston A
1642
2
Meldreth A
1565
3
Petersfield
1488
4
Steeple Morden
1470
5
Great Abington
1462
6
Foxton A
1425
7
Fen Drayton
1420
8
Harston B
1390
9
Barton
1387
10
Girton Glebe
1332
11
Burrough Green
1306
12
Castle Camps
1294
13
Haslingfield
1267
14
Meldreth B
1207
15
Coton
1204
16
Barrington
1191
17
Elsworth
1124
18
Dry Drayton
1115
19
Foxton B
966
There were also some great individual performances on the day with a mere 7 points separating the top 3 placed girls in the 'big schools' event and only 11 points separating the top 3 boys.  Jonah from Linton Heights was the top boy across all 4 events whilst Sophia from University of Cambridge Primary was top placed girl.
Boys
Girls
1st
Jonah
Linton
Sophia
Uni of Cambridge Primary
2nd
Johan
Trumpington Park
Hattie
Swavesey
3rd
Ben
Pendragon
Mia
Histon Brook
The top individuals in the 'Small Schools' competition were, for the girls, Sophie from Harston & Newton who was also 4th individual overall (across boys and girls). Whilst in the boys Lenny from Petersfield top scored with a massive 263 points with great performances in all 4 events including a sub 2min 600m. This score also ranked him as best athlete across the whole day and out of 340 children.
Boys
Girls
1st
Lenny
Petersfield
Sophie
Harston & Newton
2nd
Ben
Meldreth
Molly
Gt Abington
3rd
Maxime
Harston & Newton
Maisie
Meldreth
The event was supported by members of the Partnerships successful Leadership Academy programme with a team of over 40 sports leaders from Swavesey Village College helping at both competitions and demonstrating outstanding enthusiasm as well as care and initiative beyond their years in leading the events, scoring and acting as group leaders.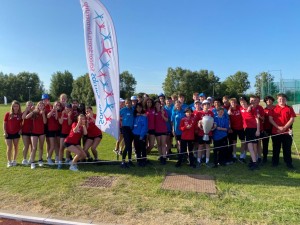 Claire McDonnell, Partnership Manager said,
"It was a great day; it is always one of our favourite events of the year and this year certainly didn't disappoint.
We were blessed with lovely sunshine, there were some incredible performances and most importantly a lovely atmosphere as the children supported their teammates and the sports leaders encouraged every athlete to give their best effort.
We had a good turn out of parents as well which adds to the occasion and helps to spur the children on in the running events.
There were some excellent performances on the day so congratulations to all of the winners and well done to everyone who took part.
As always, we have to thank the sports leaders who organised and scored the events for us, they did an outstanding job and we simply couldn't have run the event without them."