Double winners Histon & Impington Brook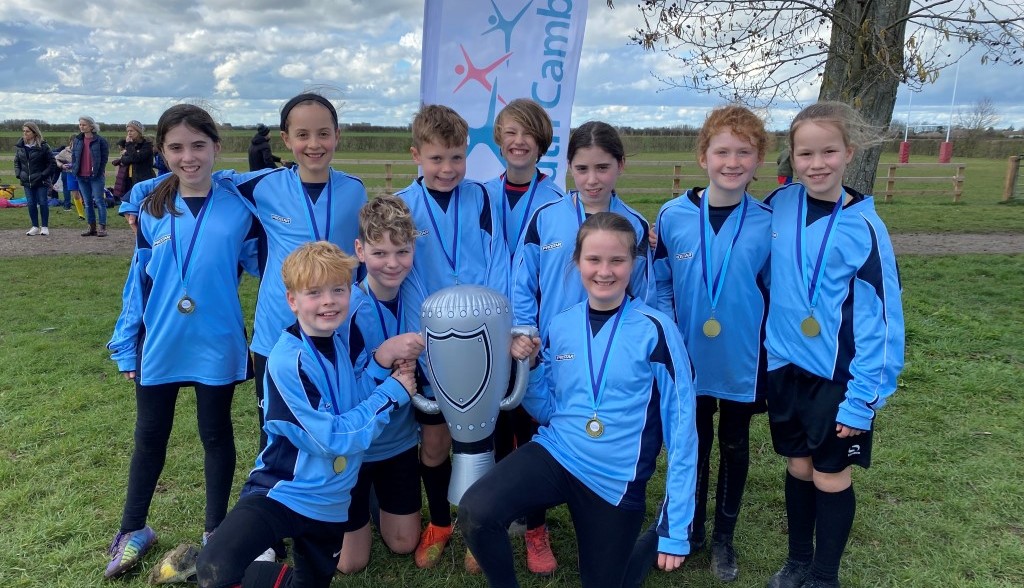 Shelford Rugby Club recently played host to the annual South Cambs School Sport Partnership Tag Rugby Competitions.  With a big entry of 25 primary schools the event was split into a 'Small Schools' competition for schools of less than 120 children in Key Stage 2 and a 'Big Schools' competition for the district's larger schools.
In the small school's competition 16 teams of mixed Year 4/5/6 children were organised into 4 groups where they played each other in a round robin format before qualifying into Divisions 1-4 based on their results in the group matches. With 3 wins from 3 matches it was the teams from Gt Abington, Petersfield, Haslingfield and Foxton that won their groups and qualified for the top division. Teams again played each other in 10min matches in their divisions with a very high standard of play and some extremely close matches in Division 1. In fact, the group finished with 5 draws and a solitary win for the Gt Abington team which earned them the title of Division 1 winners and overall Small School Champions with Haslingfield finishing as runners up thanks to scoring more tries than Petersfield in 3rd. Division 2 winners were Harston & Newton whilst Elsworth won Division 3 and newcomers to the event Girton Glebe won Division 4. The team from Harston & Newton won the 'Spirit of the Games' awards for demonstrating good teamwork, positivity and respect throughout the event.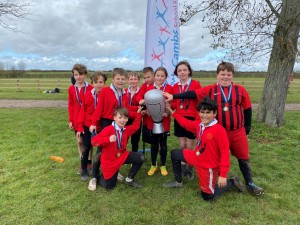 In the Big Schools competition in the afternoon there were 20 teams from 13 schools and with most schools entering two teams the competition was split into a 'Cup' and 'Plate' competition. In both competitions teams were organised into two groups where they played the other 4 teams in their group in a round robin format.
There were some fast paced and competitive matches in the round robin stages. Histon & Impington Brook won all of their matches to make it through to the 'Cup' final where they faced Trumpington Park with Swavesey & Jeavons Wood making the 3rd/4th place play off with only 1 loss each. The final was a competitive game with some great passing and good running by both teams, but it was Histon Brook who won it by 4 tries to 3 whilst Jeavons Wood narrowly beat Swavesey 3-2 to take 3rd place.
In the 'Plate' competition meanwhile Histon & Impington Brook 2 and Swavesey 2 both won all of their group matches to make it through to the final which was an extremely competitive and end to end game. Histon Brook 2 ran out 3-2 winners though to ensure their school double victory on the day. In the 3rd/4th place play off Hardwick and Monkfield Park had a high scoring game which finished 5-5 which meant they shared overall 3rd place.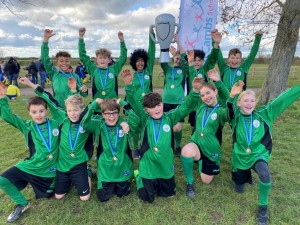 Partnership Manager, Claire McDonnell said;
"It was great to have so many schools involved today and to see so many children enjoying the game of rugby. We had over 400 children taking part today and for many of them it would have been their first experience of competitive rugby.
The standard of play was really strong, and it was great to see lots of tries being scored with some real end to end games.
We must thank Shelford Rugby Club for hosting the event and of course the team of sports leaders from Swavesey Village College who did an incredible job in refereeing 100 matches between them across the day. Its not an easy role to take on but they grew in confidence throughout the day and officiated the matches with fairness."
Small Schools Competition
| | |
| --- | --- |
| 1st | Gt Abington |
| 2nd | Haslingfield |
| 3rd | Petersfield |
| 4th | Foxton |
| 5th | Harston & Newton |
| 6th | Petersfield 2 |
| 7th | Burrough Green |
| 8th | Fen Drayton |
| 9th | Elsworth |
| 10th | Barrington |
| 11th | Castle Camps |
| 12th | Dry Drayton |
| 13th | Girton Glebe |
| 14th | Foxton 2 |
| 15th | Harston & Newton 2 |
| 16th | Girton Glebe 2 |
Big Schools Competition
| | | |
| --- | --- | --- |
| | CUP | PLATE |
| 1st | Histon Brook | Histon Brook 2 |
| 2nd | Trumpington Park | Swavesey 2 |
| 3rd | Jeavons Wood | Monkfield Park |
| 4th | Swavesey | Hardwick |
| 5th | The Meadow | Waterbeach 2 |
| 6th | Cambourne | The Meadow 2 |
| 7th | Bassingbourn | Bar Hill |
| 28th | Linton Heights | Trumpington Park |
| 9th | Pendragon | Bassingbourn 2 |
| 10th | Waterbeach | Pendragon 2 |