Competition and camaraderie at tag rugby mega fest!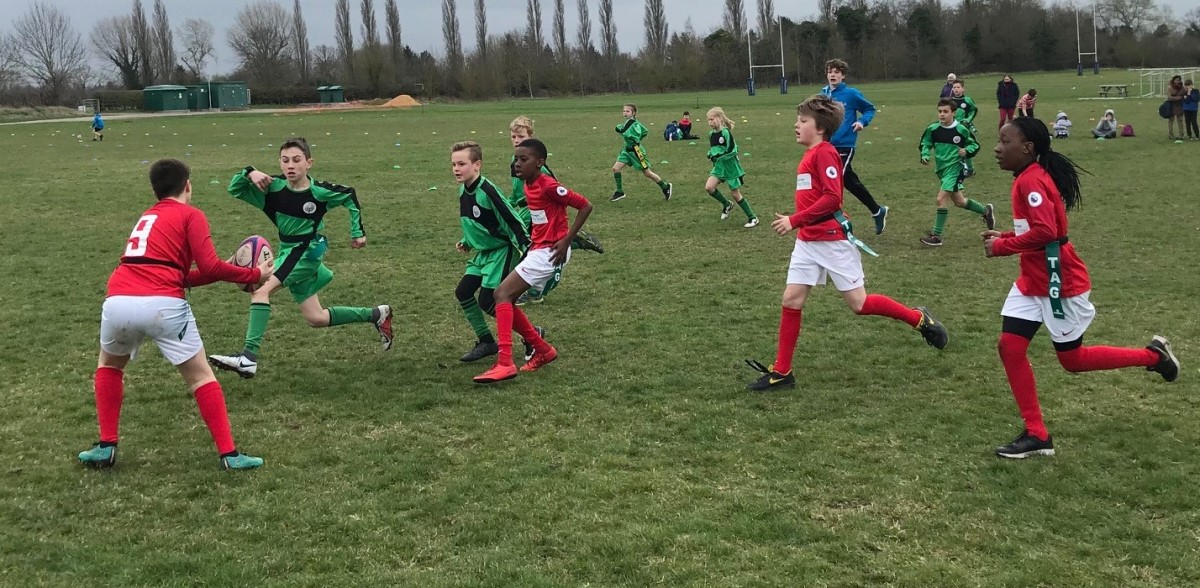 Swavesey and Harston & Newton primary schools came out on top at the South Cambs School Sport Partnership tag rugby mega fest held at Cambridge Rugby Club earlier this week. Near on 600 children took part in the event which involved a tag rugby competition and running alongside that a series of fun tag rugby activity stations where children could practice their skills and develop their game play in a more relaxed environment.
With an entry of twenty-eight schools the event was split into two with half of the schools taking part in the morning before a new set of schools arrived for the afternoons activities. In the morning event teams of year 5/6 children from The Meadow, Swavesey, Fowlmere, The Vine, Bassingbourn, Linton, Petersfield, Cottenham, Pendragon, Willingham, Elsworth and Bar Hill contested the competition which was played in a round robin format with all teams playing each other in their group. Defending champions Swavesey finished top of their group and qualified for the final where they faced The Vine School, Cambourne. It was a competitive final with the score tied at 1-1 for a time but Swavesey eventually came out winners by 3 tries to 1 to retain their title from last year whilst The Vine were proud to finish 2nd out of 12 teams.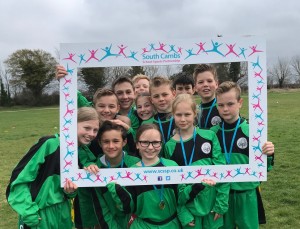 The team from Petersfield won the 'Spirit of the Games' award for demonstrating good teamwork and sportsmanship throughout the event.
In the afternoons competition it was the teams from Jeavons Wood, Hatton Park, Histon & Impington Juniors, Steeple Morden, Harston & Newton, Barrington, Great Abington, Caldecote, Haslingfield & Hardwick & Cambourne schools that took to the pitches. Again, there were some fast paced and competitive matches in the round robin stage, but it was the teams from Hatton Park and Harston & Newton who made it through to the final. In the final Harston & Newton showed their superiority with a 4-1 win over last years winners.
Hatton Park were also recognised for their good sportsmanship and showing great respect to the officials and their decisions and were presented with the 'Spirit of the Games' award.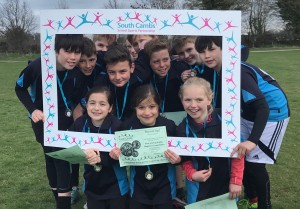 Groups of 16 children from fourteen schools took part in the festival activities whilst the matches were taking place and they got to develop their rugby skills, teamwork and communication in games such as rugby rounder's, end ball, team tag and hare and hounds before finishing in time to cheer on the teams in their final matches.
Sports leaders from Swavesey Village College refereed all the matches and oversaw the results table throughout the day whilst another team of leaders from Linton Village College organised and led the festival activities.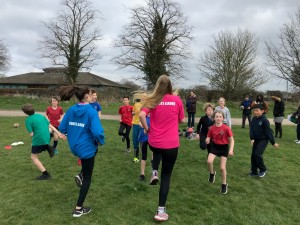 Partnership Manager, Claire McDonnell said; "It was great to have so many schools involved today and to see so many children enjoying the game of rugby and getting the opportunity to take part at a big club such as Cambridge RUFC.
It is only the second time we have run the event like this with a competition and festival, but it works well and enables more children to experience the game of rugby, often giving an opportunity to those children who might not make the school team or perhaps need to develop a bit more confidence before feeling comfortable to play in a competitive situation.
The sports leaders from both schools did an incredible job, refereeing the matches with authority and control, showing confidence in their communication skills and encouraging and motivating the children throughout. We were delighted with them and are grateful to them and their schools for their support and enabling events like this to happen."
FULL RESULTS
| | | |
| --- | --- | --- |
| | Morning Comp | Afternoon Comp |
| 1st | Swavesey | Harston & Newton |
| 2nd | The Vine | Hatton Park |
| 3rd | Cottenham | Hardwick & Cambourne |
| 4th | Linton Heights | Barrington |
| 5th | Pendragon | Histon & Impington & Gt Abington |
| 6th | Petersfield | |
| 7th | Bassingbourn | Jeavons Wood |
| 8th | Willingham | Haslingfield |
| 9th | Elsworth | Caldecote |
| 10th | The Meadow | Steeple Morden |
| 11th | Fowlmere | Steeple & Harston All Stars |
| 12th | Bar Hill | |